Aug 15
2016
36 Color World War One Photos That'll Leave You in Awe
21. Soldiers pose in a concrete trench.
©TASCHEN/LVR LandesMuseum Bonn/Photo: Hans Hildenbrand
22. A Lancashire Fusiliers seargeant in a flooded trench opposite Messines near Ploegsteert Wood, January 1917.
via Liverpool Echo
23. Troops walking along a duckboard track through the remains of Chateau Wood, Third Battle of Ypres (Passchendaele), October 29, 1917.
Imperial War Museum
24. Nine French soldiers checking a fatally injured horse on the Western Front.
©R Schultz Collection / The Image Works
25. The corpse of a French soldier of the 99th infantry regiment. He was poisoned during a German gas attack on March 23, 1918 and died eight days later of pneumonia.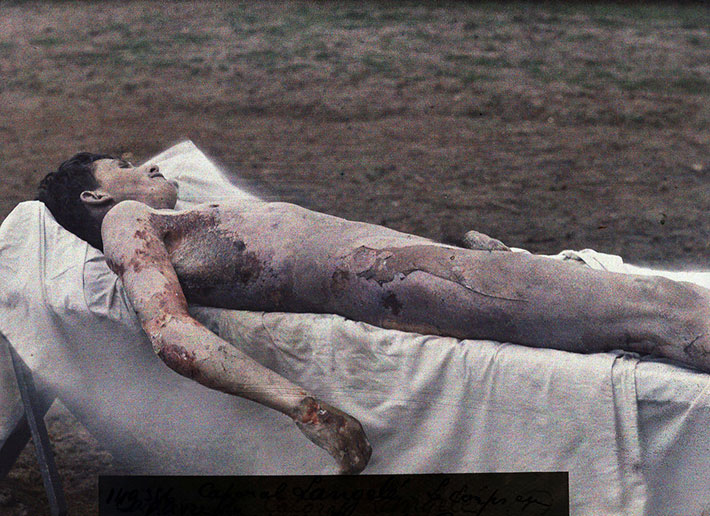 ©R Schultz Collection / The Image Works
26. French officers of the 370th Infantry Regiment pose in the ruins at the Chemin des Dames near Reims, 1917. They have a bicycle and their Infantry Regiment flag.
©R Schultz Collection / The Image Works
27. Ammunition depot in France, 1918.
©Collection Mark Jacobs/Photo: Shells-Lafaux
28. Soldiers from the Kings Liverpool Regiment in their trench listening as news is read out to them during World War One, 1918.
via Liverpool Echo
29. British soldier giving a light to a German prisoner of war, September 1914.
via Liverpool Echo
30. A lonely figure of a British sentry standing at his post. The picture was taken "somewhere in France" on March 20th 1915.