Sep 30
2015
39 Historical Photos of the Aftermath of World War II
End of the war: Huge parts of Europe and Asia had been left in ruins. Homecomings and mass burials were under way. Massive efforts to rebuild had just begun. Here are 39 incredible photos of the aftermath of World War II.
German Wehrmacht General Anton Dostler, Commander of the 75th Army Corps, was sentenced to death by the U. S. Military Commission in Rome, Italy for ordering 15 unarmed American prisoners of war to be shot on March 26, 1944. He was tied to a stake before his execution by a firing squad in Aversa, Italy on December 1, 1945.
AP Photo
Soviet soldiers with lowered standards of the defeated Nazi forces during the Victory Day parade in Moscow, June 24, 1945.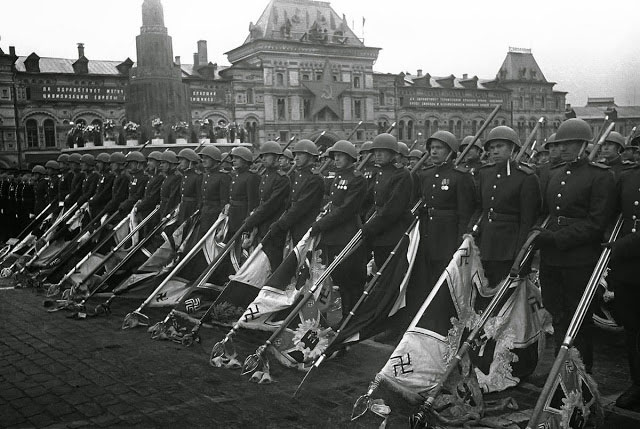 Yevgeny Khaldei/Waralbum.ru
Two emaciated but happy allied prisoners at their release from Japanese captivity, near Yokohama, Japan, on September 11, 1945.
AP Photo
The return of victorious Soviet soldiers at a Moscow railway station, 1945.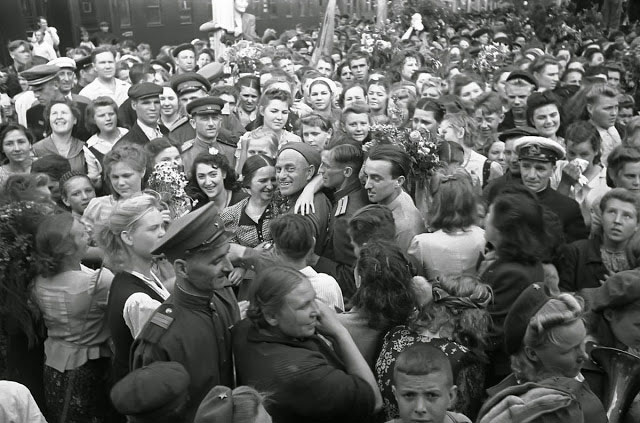 Arkady Shaikhet/Waralbum.ru
A Japanese man amid the scorched wreckage that was once his home in Yokohama, Japan.
NARA
Red Army photographer Yevgeny Khaldei (center) in Berlin with Soviet forces, May of 1945.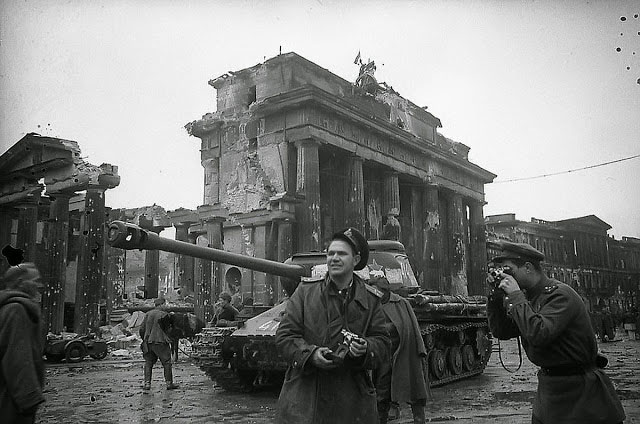 Waralbum.ru
A P-47 Thunderbolt of the U.S. Army 12th Air Force flying low over the ruins of what once was Hitler's retreat at Berchtesgaden, Germany, on May 26, 1945. Bomb craters dot area.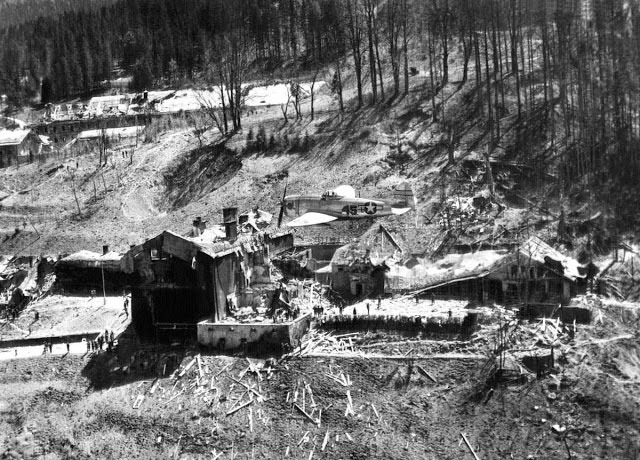 AP Photo
The Heinkel He-162 Volksjaeger, one of the captured experimental German aircrafts, displayed in an exhibition in Hyde park, London, September 14, 1945.
AP Photo
A year after the D-Day landings in Normandy, German prisoners landscape the first U.S. cemetery at Saint-Laurent-sur-Mer, France, near "Omaha" Beach, May 28, 1945.
AP Photo/Peter J. Carroll
Sudeten Germans on their way to the Liberec railway station, in former Czechoslovakia, to be transferred to Germany, photo taken on July, 1946 photo. Millions of German nationals and ethnic Germans were forcefully expelled from formerly German lands. An estimate of between 500,000 and 2 million Germans perished during the expulsion.
AP Photo/CTK